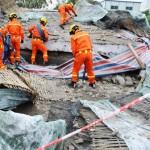 Natural disasters can come at any time, regardless of human attempts to prevent the disasters. Geographic, marine, population, health and geological events can qualify as being recognized and known as natural disasters depending on their effects on human, animal, or plant life and on the earth in general. Sometimes, an event only becomes known as a natural disaster after its cumulative effects are observable as a whole. Other events, such as the ravaging brush fires in Australia, were immediately considered a natural disaster because of the desperate consequences to the affected area and the human, animal, and agricultural impacts felt from the fires.
One step that can be taken to ameliorate the effects of many natural disasters by lessening or compensating for economic losses is being appropriately protected by sufficient Insurance coverage. Often, obtaining suitable insurance is as much an economic decision as a strategic and policy decision for the procuring entity having access to acceptable, affordable coverage is often problematic. The presence of insurance coverage won't keep the trouble away, but can help restore the status quo after disaster strikes..
Disaster preparedness is essential for any business. Knowing what to do, which tools cut off which valves, the location of fire extinguishers and first aid supplies, the requisite contact information, and the location of emergency exits from any building should be ascertained upon moving to a new space. Individual employees should each be tasked with completing the practiced emergency procedure. The responsibility of accounting for the whereabouts of all personnel in an office setting should be delegated. Ideally, there should be a quarterly review of these procedures, to keep them fresh in everyone's minds.
A Municipal governmental response can be anticipated in the event of a natural disaster. The employee of a company tasked with supervising disaster preparedness should schedule a meeting with the authorities upon receiving that assignment. Even if it only results in a tour of the offices by local fire officials and first responders, that will be a fruitful meeting for establishing communication.
Central government response may be treated and planned for in much the same way as any municipal response may be planned and scheduled. Identifying the appropriate offices and officials who would be expected to respond in the event of a natural disaster is important. A further necessary step is initiating communication between the official and the employee-liaison who is responsible for coordinating the staff members?
Depending on the magnitude of the natural disaster, groups, such as the army, national guard, and other military branches may become involved, in addition to local and regional authorities. The local police likely have in place some type of defense plan for their jurisdiction. In addition to local response, response can be expected at the national level.
Also, depending on the nature of the disaster and the response required evacuation- to-safety-plans may be required to keep individuals safe and to diffuse any crowd – related problems. These would have to be implemented by authorities having a clear mandate to keep order, probably a local police effort.
No one is ever prepared for the occurrence of a natural disaster, regardless of its likelihood, magnitude, or precedent in the surrounding area. An example of this uncertainty is the eventuality of another major earthquake in the San Francisco area. While a quake has not been foreseen as to any of the particulars, one will likely occur within the next decade, unfortunately. The best things area residents can do are to be certain that they are as prepared for this and any other natural disasters that may hit. The lesson to other, less disaster-prone areas is to remain aware of potential threats and have concrete plans to render aid if disaster ever does strike.