If you are in the market for a new MacBook Pro and you've been paying attention to recent rumors of a fall release, you might be wondering what the latest chatter from the WWDC means for the much anticipated late 2016 release date. After Mac stuck to its guns regarding a hardware-free WWDC this past June, the latest industry rumors indicate that the tech giant might be planning a staggered release of different Macs over the latter half of 2016. As it stands in mid-June 2016, no dates have yet been confirmed.
What we do know is that Apple is planning a redesign of its pro-level laptops, and rumors indicate certain features will be in play with these latest models. The biggest change appears to introduce a smartphone-reminiscent touch screen as a part of the keyboard, just above the row of number keys by the hinge.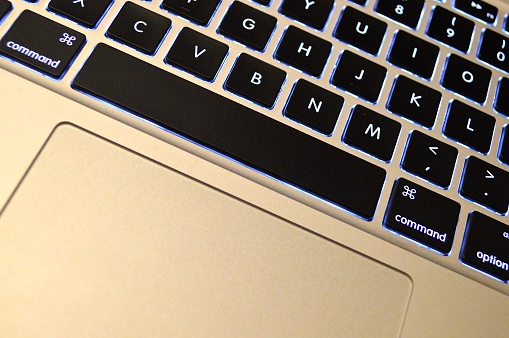 Other companies have attempted a hybrid keyboard/touch screen combination in the past, but Apple actually has the software and hardware integration to make it a valuable addition to the normal functionality of a standard keyboard.
Industry experts speculate that this touchscreen feature could be presented as a one-touch, truncated shortcut bar that could be customized to adjust for font and formatting, as well as integration with specific apps and software.
Siri is also expected to make an introduction on Macs in 2016, and it is reasonable to assume that this touchscreen capability will provide a convenient location for a Siri animation display.
The latest leaks involving potential casing design for the new MacBook pro suggest that it will include four USB-C ports and eliminate the use of the long-standing standard magnetic MagSafe charging system. Since many users expect to keep their laptops for about four years, this change could be a welcome modification for future adaptability.
For virtual reality devotees, Fudzilla reported that Apple may include AMD Polaris graphics chips in the new 2016 MacBook Pro line. While the Pro models typically come with separate graphics chips, it has been tentatively confirmed that they will get updated performance—a feature that will please power users and developers that demand high-performance graphics capabilities in their devices.
While the addition of the graphics AMD Polaris chips seems relatively certain, it is less clear if the chip will ultimately be incorporated into both the 13-inch and 15-inch models—leaving a bit more speculation on the table…at least for now.
Perhaps the biggest question is whether the next-generation MacBook Pro will be available for purchase this fall, or as early as summer 2016. Most reports have detailed that the release will happen in the fourth quarter of 2016, and have narrowed it down to an October 2016 release—but according to MacRumors, this information is very uncertain, and industry hopefuls are considering a mid-summer staggered-release of multiple devices to be a distinct possibility.
OffSite IT is your industry IT leader when you're looking for the latest technology information and innovations for your business. If you're looking for information concerning IT services that support the Mac OS platform, contact us at (866) 828--6674 or send us an email at info@offsiteIT.com for more information.