We're not here just to monitor your network, maintain your equipment, or help you recover from disaster… yes, those services are important and we do all those things, but so what? Every IT company does that.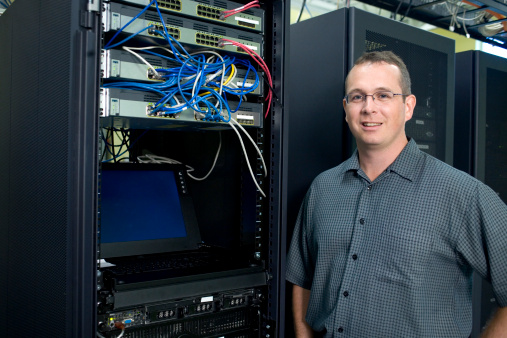 We want to go beyond day-to-day responsibilities, beyond what's expected from a MSP so that we can be a true partner to our clients instead of just another IT service provider.
That means we know how to move from the server room to the boardroom. Instead of bothering you with a bunch of technical jargon you don't understand and don't need to hear even if you did understand, we'll get right down to business value.
We provide the big picture thinking and expert advice you'd get from a CIO, at a predictable flat rate that's much more affordable than the average $150,000/year salary you'd have to invest in an in-house CIO.
OffSite IT knows how to explain what technology does in terms a C-level exec with little to no experience in IT can understand. We want to help you see IT as an asset, not a liability.
Okay, So There's Some Liability
To be fair, there's some good reason to see your IT systems as a liability.
It makes sense in particular to see your data as a liability. When you store other people's private information on your equipment that makes you legally responsible for it, and it'll cost you an average of $150 per compromised file to recover from data loss. $150 isn't much, but thousands of files are compromised in the average attack, so really you're looking at a six or seven figure hit to recover from just a single incident.
OffSite IT knows how to prevent unauthorized access and data loss. We'll regularly assess your systems to find and fix any weaknesses before they're exploited by cybercriminals.
But Overall IT is a Competitive Advantage, Not a Necessary Evil
We do more than just protect you from the financially devastating consequences of data loss.
We're also here to increase workforce efficiency, set up infrastructure that will allow you to accommodate future growth, and make it easier for you to meet and even exceed you revenue goals.
Yes, smart investments in technology can do all that.
Where do you see yourself in 5 to 10 years? What are your long-term goals? We want to sit down with your leadership to define your direction and break down your plans. We'll then show you, step by step, how we can use technology to help you reach those long-term goals.
Contact us at (866) 828--6674 or info@offsiteIT.com for more information about our network security, virtual CIO, and other IT services.