Has your business data been backed up recently?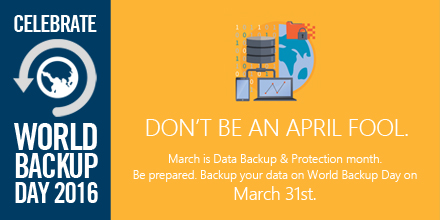 World Backup day is not only a day that promotes backing up all your valuable data, but it's also a day to talk about the enormous task of preserving our increasingly digital heritage for future generations.
OffSite IT recommends though that every day should be world backup day, as one backup per year isn't enough to combat against the leading causes of data loss, which are, in order of percentage:
Hardware or System Malfunctions = 44%
Human Error = 32%
Software Corruption = 14%
Computer Viruses = 7%
Natural Disasters = 3%
If you don't backup your data, the risk of losing your most valuable information will become a constant threat. Ensure this doesn't happen with an automatic daily backup in place. Don't have an automatic daily backup in place? Not to worry, OffSite IT will show you how!
By implementing a backup strategy that uses a 3-2-1 rule, you can feel rest assured that even if one backup fails, you still have two left. Need assistance setting up a 3-2-1 rule in your backup strategy plan? Contact OffSite IT today at (866) 828--6674 or send us an email to info@offsiteIT.com . The 3-2-1 rule creates triple redundancy for your files by creating a:
Primary and Secondary Copy – stores your copies in at least two types of storage media (local drive, network drive, etc.)
Cloud Copy – stores one copy off-site through the use of an online backup file system ensuring you have everything you need to continue working from anywhere.
Need assistance in finding that right backup provider? With the managed business continuity plans and affordable backup services offered by OffSite IT, you can rest easy knowing everything's in place to protect your information and technology from anything the future might throw at you.
Contact us today by giving our team of experts a call at (866) 828--6674 or send us an email to info@offsiteIT.com and get the protection your business needs to keep your business operations running no matter what type of disaster hits.