Builders have special software needs for their particular business.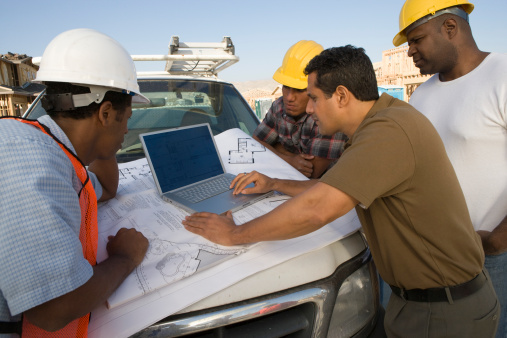 With construction companies, one size does not fit all because every construction company is unique and vary in size and the work they perform.
Choosing the right software depends on what you want the software to do. There are well over 200 software providers in the market so it can be a tough choice to find what you need. The available software providers cover everything from the initial plan to project completion, and every facet in between.
As a construction company owner, you likely fall into 1 or possibly more of the following 5 categories of potential software buyers including:
Need to Merge Multiple Applications – You want to integrate your construction solutions from multiple software providers into a single core system that provides add-on modules.
Focus on a Single Area – You require single stand alone software such for estimating for example, and need software that specializes in the function you seek.
Specialty Software – Some construction companies specialize in what they do and may require software that performs functions above and beyond to custom fit their particular needs.
Accounting Software – There are accounting software packages that focus strictly on the needs of the construction industry that include not just your payroll but also cover subcontracting costs for example.
Going IT – Some companies want software packages that are user friendly for either small or large companies to fully automate some or most of their business functions.
The most common available construction software applications encompass the following:
Takeoff – Measurement application from blueprints, CAD's, PDF's, or digital files to perform a portion or the entire takeoff
Estimating – To create professionally designed bids for your projects and employs a materials and labor database
Bid Management – Allows you to manage how you procure, purchase and contract your services and/or subcontractors
Scheduling Projects – Employs CPM (Critical Path Method) to allow a project manager schedule personnel, tasks and available resources, and uses Gantt charts in most software solutions
Project Management – Track costs for the project and manage vital documentation, along with comparison of estimated versus actual costs
Program and Portfolio Management – Focuses less on the details but more on the overview as a specialized set of project management applications
Job Costing/Accounting – Performs job costing and main accounting functions to monitor costs per job and CSI code
Client Management – Tracks all client contact info, job history, and potential future customers
Field Service Management – Allows you to coordinate field service technicians, create work orders and monitor inventory
There are software solutions for every contractor's need in the constructions industry; it's just a question of finding the right solution for your particular company.
Take the guesswork out of finding the perfect software solution for your particular company and contact OffSite IT today, or call us at (866) 828--6674 or email us at info@offsiteIT.com . Let us help you find the best construction software to make your business succeed.