As a business owner, things can get pretty hectic and sometimes you tend to lose focus on the important things. Having a well-organized system that manages tasks and routines in a clear and concise manner can be a great relief.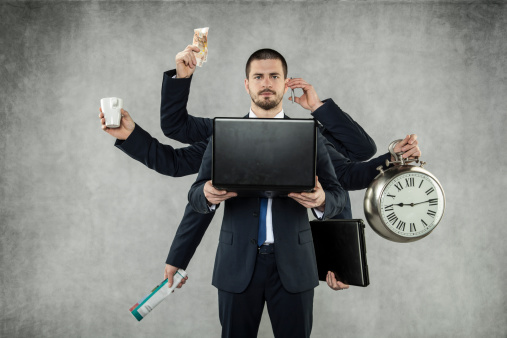 With these 5 productivity apps at your disposal, you'll be able to quit worrying about time-management and start focusing back on your business.
30/30:
30/30 allows you to manage your business tasks and lifestyle in a healthy way. With this app, you are able to get work done while still setting time aside to take a breather before getting back to full focus on the task at hand.
With 30/30, you assign each task its own time, this helps balance your workload and notify you of how much time you have to complete each task to meet milestones and deadlines. You now have the option to practice a healthy work-cycle, this app reminds you to take breaks; sometimes entrepreneurs get so caught up they forget to practice healthy business sense in order to re-focus themselves.
Basecamp:
Through Basecamp, you can keep your team up-to-date and on the same page with this centralized solution. Manage tasks, client work, and teamwork all in one without having to worry; this powerful app keeps your company organized with:
To-do lists,
Milestone and deadline management,
File sharing,
Time management,
Wiki-style web-based text documents, and
A messaging system.
With Basecamp, you're able to split up work individually to each employee or group it as a team task. You can frequent regular check-ins to ensure everyone is doing their part and milestones and deadlines are being met.
Also, keep your clients happy by including them in on what's going on through Basecamp, they won't have the option to see unfinished work or group discussions unless you wish to share it with them.
Dropbox:
Dropbox is an important app for most companies; it allows you to store company files, photos, documents and videos in one safe place. You have the ability to access your information from anywhere, whether it is through your laptop, phone or tablet, Dropbox makes it easily accessible.
Now you can share with others, invite teammates to specific folders in your Dropbox to give them flawless access to the information you want them to see as a convenient solution for team projects.
With Dropbox, your information will always be safe; this is crucial to a business in the event of a disaster or system failure. Never worry again knowing all of your hard earned work if safely locked within Dropbox when you need it to be.
Mint:
Mint is a powerful app that helps you become more successful as a business owner. Using a 128-bit encryption along with physical security, your financial information is always safe and locked away. When you get started with Mint, you have the ability to:
Create and maintain budgets,
See all of your balances and transactions,
Have access to all of your financial information in one convenient place,
Add accounts, cards and bills,
Track spending patterns and investments.
All of your information is automatically updated and categorized in real time. Based on your financial goals; start saving and growing your business with recommendations from Mint.
Skype:
Skype becomes an essential tool for those business owners who are constantly traveling to meetings or trying to arrange conference calls. Take ease in knowing you can cut costs on traveling expenses and save headaches with trying to get everyone on the same page.
With Skype, you can:
Transfer files in IM,
Join group audio and HD video calling,
Schedule meetings in Outlook,
Use desktop, application and whiteboard sharing,
Record audio and video in real time.
Skype helps you get everyone on board and significantly reduces the difficulty of scheduling conflicts. It's easy and accessible from desktops, smartphones, and tablets.
Contact OffSite IT to learn more about how your company can become increasingly productive. Call (866) 828--6674 or email us at info@offsiteIT.com to learn about our managed IT services.